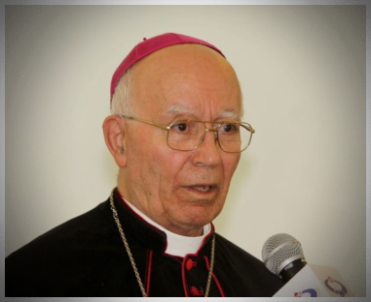 SELIM SAYEGH
twieled f'Rmemin, il-Ġordan, fl-1935. Ordna qassis fl-1959 wara li temm l-istudji tat-teoloġija u l-filosofija fis-seminarju tal-Patrijarkat ta' Ġerusalemm f'Beit Jala, fil-Palestina. Kompla l-istudji l-Italija fl-università tal-Lateran f'Ruma. Minn hemm kiseb id-dottorat fid-Dirittu Kanoniku fl-1966. Fl-1982 kien ordnat Isqof Awżiljarju tal-Patrijarka Latin ta' Ġerusalemm għall-Ġordan mill-Papa Ġwanni Pawlu II. Irtira fis-sena 2012 wara ħidma ta' 30 sena bħala isqof tal-Ġordan.
Mons. Sayegh kiteb bosta kotba b'temi spiritwali li nqalbu f'bosta ilsna. Huwa kiteb ukoll gwida tal-imkejjen bibbliċi għall-pellegrini li jżuru l-Art Imqaddsa u l-Ġordan.
Msgr. Selim Sayegh was born on 15 March 1935 in Rmemin, Jordan. He was ordained a priest on 28th June 1959 after he had concluded his studies in Theology and Philosophy at the Patriarchate Seminary in Jerusalem. He continued his studies at the Lateran University in Rome and got his PHD degree in Canon Law in 1966. In 1982 he was ordained as Bishop and appointed Auxiliary Bishop and Patriarchal Vicar General for Jordan, where he is still giving his service. Msgr. Sayegh wrote many books that were translated from Arabic, his mother language, to English, Italian, and lately also to Maltese. He wrote a few books about the consecrated virginity, about the Biblical sites in Jordan and in Palestine, and many other books on prayer and meditation.